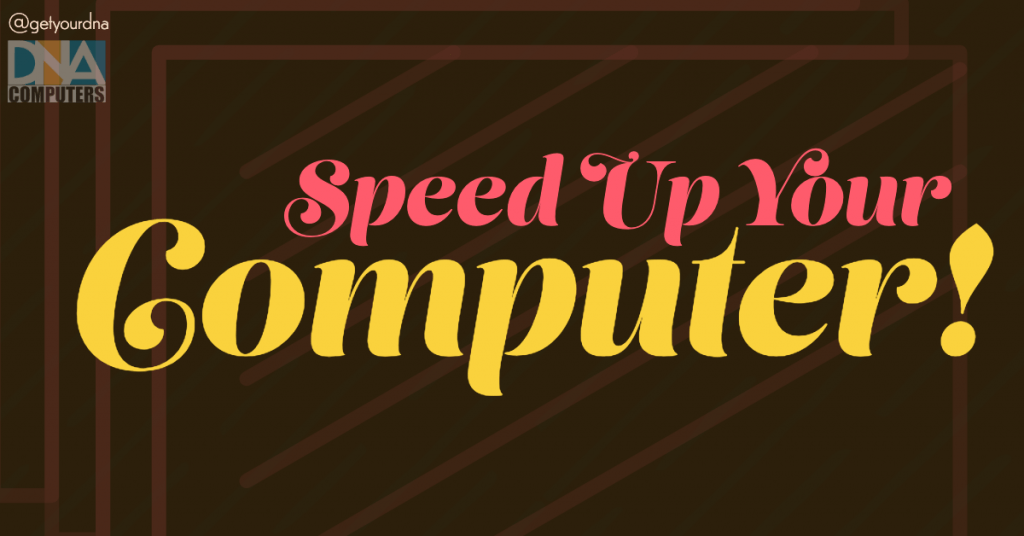 At DNA Computers, one of the most common questions we hear is, How can I speed up my computer? When your once-quick PC or Mac starts to steadily decline in performance, it is easy to jump to the conclusion that it is time for a new computer. However, the truth is that there are some easy, and less expensive, ways to speed up your computer!
Here are 3 ways that we can rejuvenate and add new life to your computer.
1. Check the hard drive
The biggest bottleneck in most older computers (and also some new computers) is the hard drive. If your hard drive is starting to fail, you might notice symptoms like slow start up, system freezing, and difficulty opening and/or saving files. If these symptoms sound like what you are experiencing, it may be time for a new hard drive or optimization service. Bring your computer in to DNA Computers in Fairborn or Kettering for a free inspection at the counter, no appointment necessary.
2. Upgrade to an SSD
Because the slowest component on most computers is the hard drive, the easiest and most cost effective upgrade is usually to upgrade the hard drive to a solid state drive. Solid state hard drives are faster than traditional hard drives because they do not contain moving parts. Instead, your data is stored in a memory chip which makes reading and writing to the disk many times faster! At DNA Computers, we have seen many old computers running BETTER than new with a quick and easy SSD upgrade. Our SSD Upgrades start at $99, ALL INCLUSIVE. Are you a teacher, first responder, police officer, firefighter, veteran, or active duty military? If so, you are entitled to an additional Hero Discount of 10% on our solid state upgrade.
3. Upgrade RAM and/or Graphics Card
For maximum performance, we recommend a minimum of 8gb of RAM, or memory, for most computers. For PC gaming, you may also consider adding or upgrading your graphics card for better gaming performance.
At DNA Computers, we offer free computer inspections, no appointment necessary! Feel free to stop by with your computer anytime for quick, friendly service. We have 2 locations in the Dayton area to serve you: Kettering, OH and Fairborn, OH. Questions? Call 937-298-2667