☆☆☆☆☆
The Best In PC Gaming
Proudly Built in Dayton Ohio #DaytonStrong
High End Custom Gaming PCs
From $70/down. Pay Over Time!
PC Repair Service
Walk-ins Welcome! You may also book a Free Appointment with DNA's Expert Computer Repair Team at our Convenient Kettering Location.
Buy a Computer
Walk-ins Welcome! Buying a new PC has never been easier. Schedule a free, no pressure, one-on-one consultation at either of our convenient Kettering  location today.
Safety First
Learn how we are keeping our employees and customers safe during COVID-19
Trusted Since 2009
Proudly Serving the Dayton and Kettering Area for 12 years and counting!
Expert PC & Mac Repair Service
Friendly, Expert Service backed by our Worry-Free Guarantee
Data Recovery
In-House Data Recovery at an Affordable Price. DriveSavers Partners.
Gaming Computers In Stock Now
HIGH END GAMING AND ENTRY LEVEL GAMING SYSTEMS AVAILABLE NOW. VISIT US TODAY! OUR GAMING PCS ARE FULLY CUSTOMIZABLE AND READY TO PLAY ALL OF TODAY'S BEST GAMES!
Double Helix Custom Gaming PCs
PROUDLY BUILT IN DAYTON, OH!
XBox, Playstation & Nintendo Switch Repair
Repair HDMI Port
Repair Power Supply
Screen Repairs & More
 Gaming Console Repair Service Available at our Kettering OH Location
Cell Phone & Tablet Repair
iPhone / Samsung / Smartphone
iPads & Tablets

Screen Repairs
Repair Charging Port
 Phone & Tablet Repair Service Available at our Kettering OH Location
Expert Mac and PC Repair
We deliver excellent, high quality computer repairs including warranty. Our expert, trained technicians and friendly, knowledgeable staff make your visit to DNA Computers in Kettering a worthwhile trip from anywhere in the Miami Valley. Not sure what is wrong with your computer? Bring it in. Our team frequently fixes minor issues at the counter, at no charge.
Computer Sales
We stock high quality refurbished laptops, desktops, all-in-ones, MacBooks and more. Our friendly, knowledgable staff will help you find the computer that best fits what you are looking for and what will best meet your computer needs within your budget.
Don't see what you are looking for on the shelf? We can build a custom computer for you or order refurbished and new computers at the same great DNA Computers pricing.
Visit DNA Computers Today in Kettering, and see what makes us the Miami Valley's #1 choice in computer sales and computer repairs!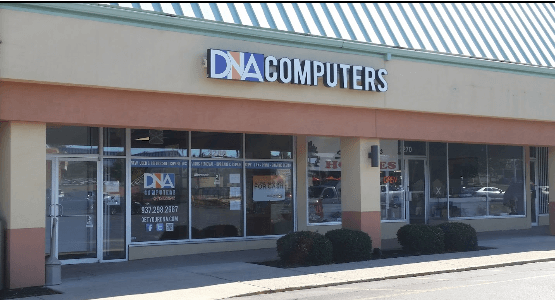 DNA Computers
DNA Computers started as an idea- To be efficient, deliver top quality cost-effective sales & service, and above all else, provide excellent customer service 100% of the time. We strive to explain technology in a way that never talks over your head, so that our customers can make informed decisions.
Our excellent reputation and A+ BBB rating are a testament to this philosophy. We look forward to serving you!
Have Questions or Need Help Now? Contact Us Today!